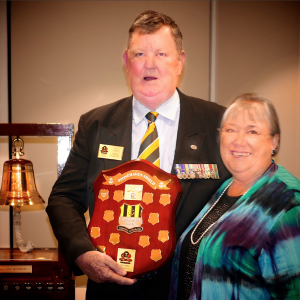 The occasion was grand – bi-annual reunion of the HMAS Leeuwin 46th Junior Recruit
Intake, Canberra, on a cold winters night to present the Tingira Australia association
Stonehaven medal.
The in augural winner of the medal is Tasmanian navy veteran, Ken Dobbie, who travelled
from Devonport, with his wife Lorraine for what was to be one of his many naval career
highlights.
"Both Lorraine and I were overwhelmed with the occasion and the many and enthusiastic
well wishes, I am extremely honoured to receive this very historic Stonehaven Medal. We
are both are extremely grateful for all the efforts of the Tingira Australia Association and the
'boys of the 46th' to make it a most memorable occasion for both of us in Canberra" said
Ken.
"The Navy Junior Recruits of HMAS Leeuwin from 1960 to 1984 made a big impact on our
navy during this period, especially the early days when young 17 year old boys like myself
were on the frontline DDG gunships of the Vietnamese coastline, we should not be
forgotten for what we did in our war effort" said Ken.
Ken Dobbie has led a JR Memorial sub-committee over past 10 years and erected the
Junior Recruit Memorial in 2010 on the site of HMAS Leeuwin at East Fremantle.
In 2016 the sub-committee have now achieved a 'permanent covenant' on this
commemorative naval memorial site, as the former naval base, HMAS Leeuwin, is now up
for sale by tender and then to possible be developed in the near future.
The Stonehaven medal is awarded annually by the Tingira Australia Association for the best
'Tingira or Australian community contribution' by any former member of the HMAS Leeuwin
Junior Recruit Training Scheme.