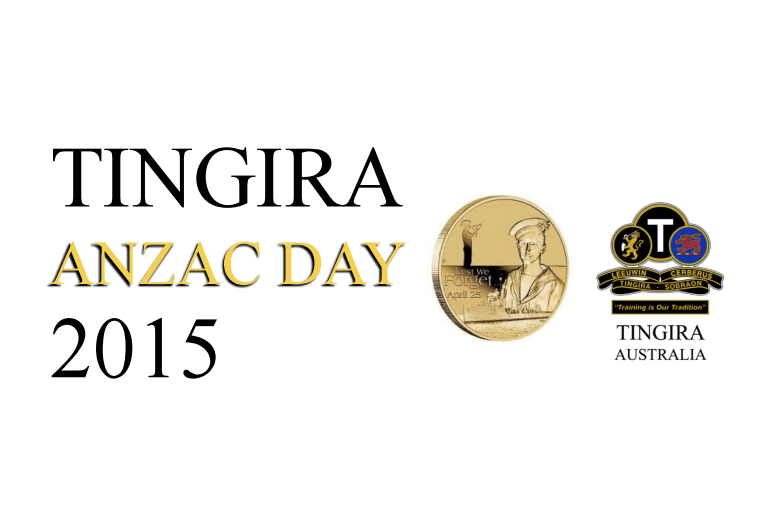 Our most private and privileged day of commemoration here in Australia. On this day, we the past and present service members of the Australian Defence Force are thrust into the limelight of the Australian public.
The Tingira Australia Association has, as one of its main 'aims and objects of association' to gather and commemorate on this day as a national group. There are two main reasons we as Tingira gather on ANZAC Day. The obvious, that it is our most commemorated national day dedicated to the 'fallen' over the many past conflicts that Australia has been part of. We are all connected on this day with a past shipmate or family members through those moments of the war effort. A day of solace and remembrance for all, it is also a day where we can educate many members of the public of what our Diggers did for us.
The new comers to our country, young children and teenagers learn from this day, it is truly a day when most Australians come together here and all over the world. Veterans like us all get to see and feel the emotions of this day form sunrise to sunset, it is a privilege to be part of ANZAC Day and Tingira is now part of it once again. For the 'Tingira Boys 'of HMAS Cerberus and Leeuwin we look to rejoin our former shipmates for this very special occasion.
We also have a second motive on 25th April each year. This is a moment of celebration for us, the commissioning day of the original 'boys ship' HMAS Tingira at Rose Bay, Sydney. The Nautical School Ship Sobraon was commissioned into the RAN on 25th April 1912, this is a day we also celebrate the birthday of HMAS Tingira.