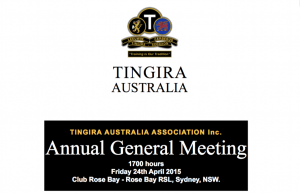 Notice is hereby given to all financial members of the Tingira Australia Association that the Annual General Meeting for Tingira Australia Association will be conducted at Club Rose Bay at 1700 hours on Friday 24th April 2015.
Agenda items to be tabled for meeting to be sent by email/hard copy to the Secretary by 24 MARCH 2015.
Annual Report to be ratified at meeting, full report is available for download only on website – "About Us" section.
The meeting will be followed by a Sunset Service at 1730 hours on Tingira Memorial with a Presidents Dinner at Club Rose Bay at 1800 hours.
Please RSVP Secretary if you intend to attend dinner for catering numbers.
Dress Of The Day: Dark suit, White shirt, Tingira tie and Medals.
Mark Lee
Secretary
Tingira Australia Association