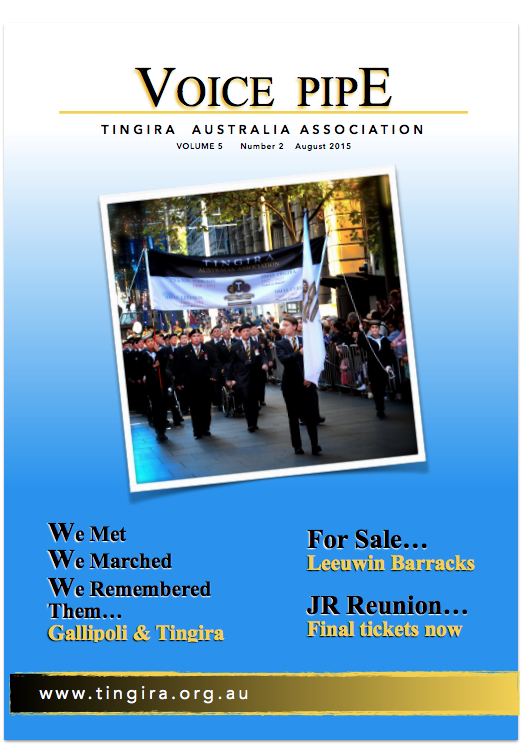 Click here to Download and read your copy of Voice Pipe today
It's been a whirlwind few months at my desk, running the communications department for the RSL NSW and then the Tinny boys to march around the country on ANZAC Day.
In Sydney the AGM was held prior to the Sunset Service on Tingira Memorial. It was a striking moment as we sang the national anthem with locals passing by joining the service. Followed by the Presidents Dinner – well they just get better, singing with Amber, that was a good move! Great night was had by all and many new friendships starting to emerge amongst the group.
Our proudest day – when the Tingira lads marched onto the Sydney Cenotaph and we had in our minds that the boys in Melbourne are also at the Shrine of Remembrance and the Perth boys at Kings Park, a great achievement by all, well done. Big thank you to Rick Reddish who came down to Sydney from Brisbane, wasn't real well in his health, put him in a wheelchair and he did the march proudly, well done mate we were all vey honoured to be by your side for the occasion.
Another highlight, the Navy cadet unit from the new unit 'Australia' were on hand to help us and carry on the Tingira spirit with their youth programs, we welcome their new association with Tingira.
Thanks to all the lads who have helped me through some very busy few weeks, Paul in WA and Niall in Melbourne, brilliant Bravo Zulu all round, Russ you would have been very proud, we know you too were working for the country at Gallipoli, hope you wore our Tingira tie!
On a sad note Leeuwin Barracks to be finally developed, it was only a matter of time, such a great location. Wonder what they do with our Memorial? We have a team on the case in the West and in Canberra, let's hang onto the Tingira Memorial here at Rose Bay for all those obvious reasons, it's on our Tingira site and to start with!
Time to all get behind the President Lance Ker and the team on the big 'JR Reunion' it's nearly sold out, if you don have a ticket now, its time to get one, see you at the Reunion!