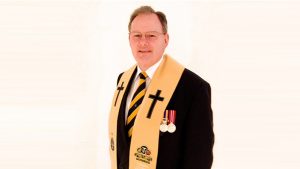 Although he was a 'mobbi', Pastor Bob Durbin has had a close affinity with the Tingira boys. For many decades several of his class mates and later shipmates were Junior Recruits from HMAS Leeuwin and he was very much in a similar training regime at Nirimba in his early navy days as a young electrician trainee.
Today Bob Durbin is the resident Pastor at RSL Lifecare War Vets Village, Narrabeen, on Sydney's northern beaches. Recently Pastor Durbin offered his services to become the official Tingira Association Pastor and to contribute to a chaplains column on our website.
At the recent Tingira Tribute held at ANZAC memorial, former navy chaplain Monsignor Brian Raynor performed a blessing of the new 'Tingira Stole'  and presented it to Paster Durbin. Using an old army soldiers helmet and a branch of gum leaves Monsignor Rayner gave that great military feeling to his blessing of the Tingira Stole.
Pastor Durbin then introduced the Tingira members at the Memorial with a new 'Tingira prayer' he had written for this very special occasion.