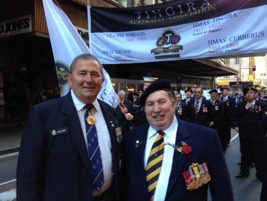 The first Tingira Australia Association Annual General Meeting (AGM) was conducted last month with former Junior Recruit Greg Read from the 12th intake of HMAS Leeuwin JRTS, elected unopposed as the new President for 2012-13.
Tingira Patron, Vice Admiral Russ Crane as the Returning Officer, the AGM was all 'above water' as the Association elected the first Committee to take over the Association from the steering committee, who had set up the organisation over the past two years.
Out going President Chris Perrin, was in high praise of his team for the enormous workload, successful administration of the membership, communications, website and the function activities over this initial two year period of starting the Tingira Australia Association. Chris offered Greg all the assistance he may need.
The AGM was followed by a brief Sunset Service on the Tingira Memorial with the Presidents changeover dinner held at the Club Rosebay. A great night was had by over 40 members with their partners, many speeches with bell ringing. The following morning with boots polished and berets on, the 'Tinny Boys' marched in the annual Sydney ANZAC Day March with a well earned refreshment break on completion!
The new committee will soon meet setting new directions for the 'Tingira' boys with their minds initially set on activity during the navy's big International Fleet Review to be held in Sydney over the first week of October with over 10,000 sailors visiting the shores of Sydney.
Tingira Australia
Committee 2012-13
PRESIDENT Greg Read
VICE PRESIDENT David Ruckert
SECRETARY Mark Lee
TREASURER Peter Stephenson
Committee Chris Parr
Committee Lance Kerr
Committee Bob Dobson