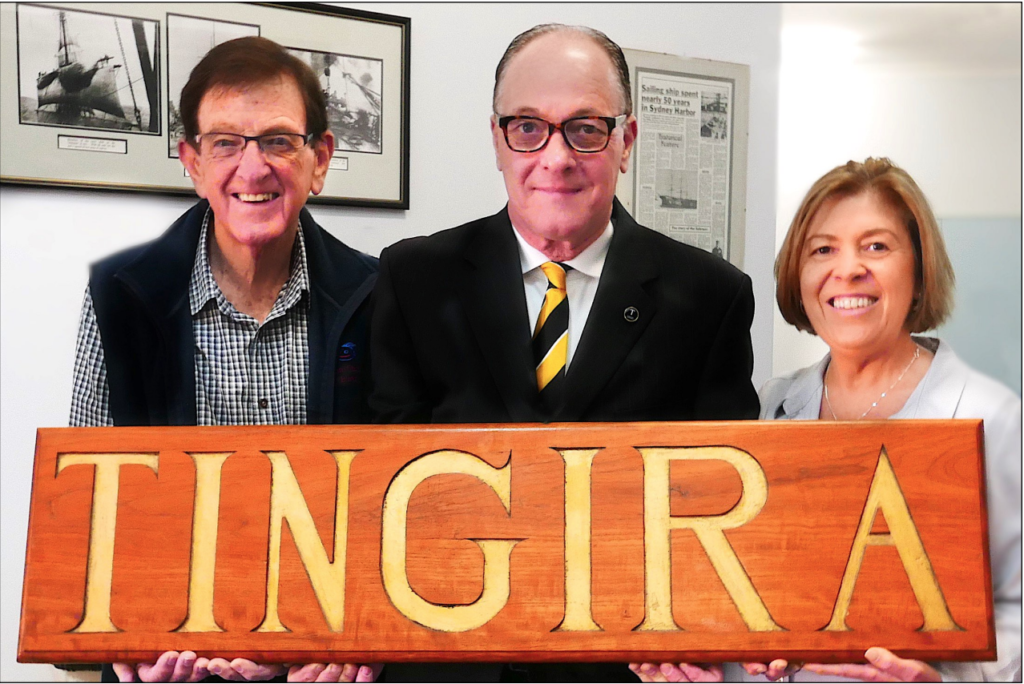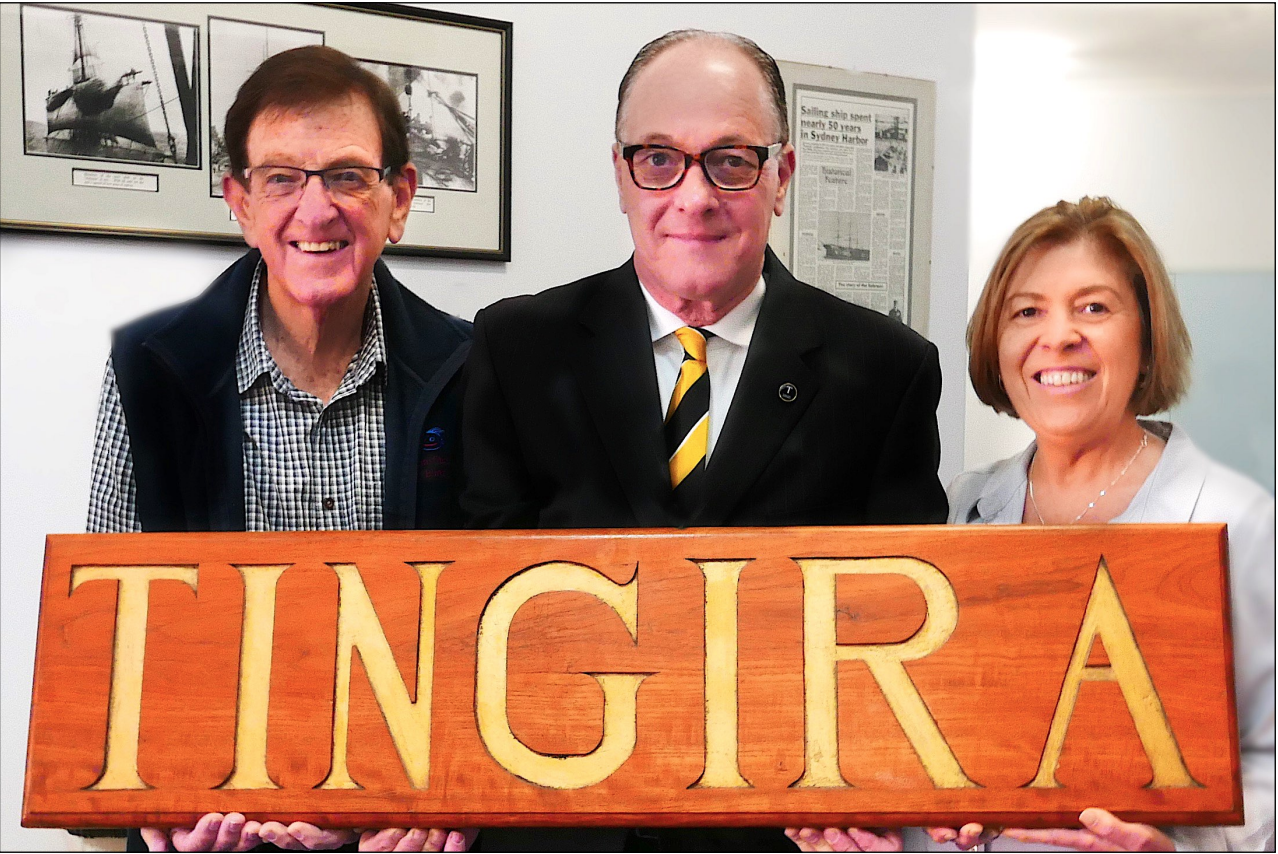 Alan Carter, Mark Lee and Wendy Dorn with the handover of the HMAS Tingira nameplate for the Tingira Australian Association to be the future custodian.
Not every day you get your 'hands on' the relics of an old historical sailing ship approximately 107 years of age. Recently, the Royal Institute for Deaf and Blind Children, Tingira Heights, presented Tingira Australia Association Secretary, Mark Lee, with the original HMAS Tingira name board and memorabilia as part of a donation ceremony.
Wendy Dorn, Area Manager Hunter, Royal Institute for Deaf and Blind Children, said the historic Tingira memorabilia was probably not going to fit in as a display with the combined tenants and the modern architecture of the new building when we move in the near future.
Wendy tasked her right hand man, Alan Carter, to find if there were any original 'Tingira groups' that would treasure these items and be a worthy custodian to continue their story and livelihood in decades to come.
Alan sourced Tingira Australia Association, the second generation of Tingira Boys, who have welcomed the donation towards their ever building growing collection of all things HMAS Tingira and HMAS Leeuwin.
Tingira President Lance Ker was excited to learn the good news of the donation and see the media photograph of the staff and the Tingira Secretary with the original Tingira name board.
"It's amazing how some local publicity on social medial, a well presented website and a dedicated Tingira committee can source items like this original HMAS Tingira name board. This will now take great pride within our association, Tingira's past will have a new future again. The Tingira committee are working on future plans where maximum general public viewing of the Tingira story and viewing of other memorabilia will be the main focus at this stage, we are most grateful to Wendy Dorn and her team for contacting the association" said Lance Ker.
The Tingira items were gifted to the Royal Institute for Deaf and Blind Children at its opening day of February 1991 by the then Governor of NSW, Rear Admiral Peter Sinclair. Governor Sinclair served as the Executive Officer at HMAS Leeuwin, looking after the young Tingira Boys during his naval career.
Tingira Boys joined the RAN at 15 years of age when HMAS Tingira was commissioned on 25 April 1912, over 3,000 boys were trained on her and sent to the fleet over the following two decades. The second generation of Tingira Boys, also aged 15, commenced at HMAS Leeuwin on 13 July 1961 with 10,000 young sailors joining the ranks of the RAN fleet, many still serving today with over 35 years continued service.
The Royal Institute for Deaf and Blind Children will move into a new $5 million medical centre at Broadmeadow, in a combined role with ear, nose and throat specialist within the Newcastle region first quarter 2020.