Commodore Lee Cordner, AM, RAN (Retired)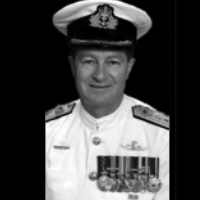 Lee Cordner joined the Royal Australian Navy in 1968 as a 15 year old Junior Recruit from Young, NSW. After qualifying as a Seaman Officer he served in numerous naval vessels including HMAS Sydney III (Vietnam War).
Commanding HMAS Betano and HMAS Bass before qualifying as a Principal Warfare Officer in the United Kingdom, Cordner served as Executive Officer of HMAS Darwin.
As Commanding Officer of HMAS Sydney IV during the First Gulf War, and HMAS Adelaide II as Senior Captain in the Fleet, Cordner resigned in the rank of Commodore after 33 years full time service in July 2001.
On leaving the Navy he was appointed Managing Director of Future Directions International Pty Ltd, a strategic 'think tank' based in Perth, WA. In 2006 he assumed his current appointment as Associate Professor at the Australian National Centre for Ocean Resources and Security (ANCORS), University of Wollongong.
A graduate of the British Principal Warfare Officers Course, Australian Joint Services Staff College and US Naval War College, Cordner holds Masters Degrees in International Relations and Public Administration.
Cordner is still very active today in military as he researches, writes, presents and commentates on strategic maritime issues.