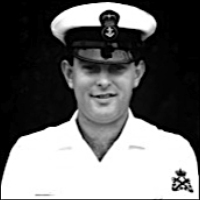 Born in Stanthorpe, southeast Queensland and started life on a mixed farm including dairy, pigs and small crops. Later the family moved into town and his father worked as a contract fencer before taking up a position with the NSW Department of Agriculture and Fisheries. Mark was involved with the local Pony Club for many years and competed in equestrian events up until he joined the Royal Australian Navy in January 1977.
After a life changing 12 months as part of 'Marks 58th Division', Mark along with many friends, was posted to HMAS CERBERUS for initial category training as a communicator. In August 1978 with basic Radio Operator training completed, Mark was then posted to HMAS KUTTABUL awaiting his first sea posting. This is an extremely uncertain time as the difference in ships was fairly extreme and there were lots of opportunities to get some great trips.
Joining the HMAS MELBOURNE (CVS21) in the Captain Cook dry dock on the 8th January 1979, four days before his 18th birthday. This was the start of a large number of sea postings including: BAYONET, BETANO, DUBBO, FLINDERS, TORRENS, FREMANTLE, IPSWICH, ADELAIDE, DARWIN and WESTRALIA.
Despite being prone to sea sickness Mark loved the sea life and responsibility of service in single operator ships and after posting from the MELBOURNE to MORETON spent the next 10 years almost exclusively in Patrol Boats and Landing Craft.
The highlight during this time was a deployment to the Solomon Islands in 1983 in HMAS BETANO with AUS CDT 1 embarked. For a single Radio Operator this was an extremely busy time with a full four months on the CW (morse) Broadcast A13B without any reduced schedules of guard sites available which meant the longest time away from the ship at any time was around 3 hours.
Promoted to Petty Officer on-board HMAS IPSWICH during K89 exercises off Darwin. During this time IPSWICH suffered a mechanical breakdown and the Commanding Officer and PO Bryant were loaned to the USS OLDENDORF for the remainder of these exercises.
Posted to HMAS ADELAIDE for RIMPAC 1992 spending some great time in Hawaii and San Diego. After promotion to CPO on-board HMAS WESTRALIA spent some time as an Instructor at HMAS CERBERUS Communications school before being posted to his final posting as OIC NAVCALS Cairns in Far North Queensland.r Remaining in this position until discharge in January 2001.
After retiring from the Navy, Mark reignited his association with the agricultural sector and joined the Cairns Agricultural Show Society as a volunteer Ring Steward and eventually Ring Master, continuing his involvement with regional Australia. This sparked the organisational side in Mark who soon accepted the position of Manager of Australia's largest regional agricultural show and led the show to successive record gate figures in 2006 and 2007.
As the full time Chief Executive Officer of Queensland Shows in 2009 he has enjoyed the experience of working with a fantastic team of volunteers across Queensland and Australia ever since. This role has seen him representing Queensland at all of Australia's Royal Shows and he represents Australia at Commonwealth agricultural conferences with the most recent being in Edinburgh, Scotland 2010 and Livingstone Zambia in 2012.
He has an unwavering belief in Agricultural Australia and the role that our Agricultural and Show Societies play in this industry.
Mark, along with his partner Debbie Jewlachow have raised their combined four children in the Cairns area and now have four grandchildren all living in Cairns.
Marks highlights are numerous and include initial training in Leeuwin, serving in our last aircraft carrier, the Solomon Islands deployment in BETANO and working with great friends and colleagues over a 24 year career with the RAN.
The Australian Agricultural Show movement has also had it's highlights including a number of audiences with the 'Princess Royal' and working closely with volunteers from every community across Queensland to ensure that each and every community has it's own identity. Great people, fantastic friends.