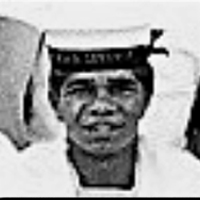 "I joined the Royal Australian Navy as a Junior Recruit (the first Ramsay Division – 39th Intake) in April 1972. I was one of six other boys from my town in Western Australia, commencing a naval career as Junior Recruits. In fact, we were all in the same class at High School, which may have been a first for Leeuwin.
After I left HMAS Leeuwin I did my "Ord time" on the HMAS Melbourne, which was in dry dock the whole time we were on it. I wanted to be a UW (underwater weapons) so I ended up at HMAS Watson for basic training with all the UC's (underwater controllers) as well.
After UW training I was drafted to HMAS Anzac and went to sea on day one, training around the Whitsunday's of Queensland for a month. My next draft was to building '215' or HMAS Stalwart as it was called officially!
Spent many nights stepping out with Peter Rode, John Mitchell, Kim Roughley, Rod Hine, Chris Absolom and a few others I cant quite remember. After the Stalwart I ended up at HMAS Penguin to get a cartilage removed from my knee which I damaged playing AFL footy a year earlier. And as happens, I couldn't get classified 'sea-worthy' and it wasn't likely to happen soon, so I had had enough and got out at that stage.
I spent approximately six years in the Navy, having met some great people and sharing many unbelievable experiences. There were some incidents during those years that I wish didn't happen, but don't regret. I think they were character-building in many ways and helped me become the person I am today.
In December 1976 I married my then-girlfriend, Sharon, who was a nurse at a Sydney Royal North Shore hospital. Not long after, Sharon was expecting our first child. I then decided the Navy was not the ideal environment in which to bring up a young family, so I chose to leave. Jay Ashley Kickett was born in May 1977. He was followed by Kasey Jarryd in 1984 and Cody Wade in 1992.
At that time, I felt having a secure family life was more important than a decorated career in the Navy. Sharon and I have now been married for 34 years.
In 1978 I moved back to my home town in Western Australia where I spent 12 months working in a number of jobs, including as a gardener at the local High School and as a shed hand for a shearing team. Being back in my town, I played the usual sports, football, cricket and basketball. I was the captain of a B Grade Cricket team.
I also played First Grade football for a local club. I was fortunate enough to win the Best and Fairest Award for both my club and the Central Great Southern League. Our club also won the premiership flag of that year. I was awarded the Most Valuable Player in the Grand Final by the South Fremantle Football Club. As a result I was invited to Perth to play football with South Fremantle. I remained with the club for two seasons, playing only a handful of games.
At this time, I also began playing indoor cricket while in Perth, competing in a Super League competition, resulting in me being chosen to train with the Western Australian squad. I missed out on the final team, but continued to play in Perth and Canberra.
In 1986 we moved from Perth to Canberra to start a career in the Australian Public Service and for my wife to be closer to her family, who were from northern New South Wales.
My first placement was in the Department of Defence, where I was hoping to be working on RAN projects. However this didn't eventuate. I spent the next three years working alongside Army Engineers.
In 1989 I won a promotion to Aboriginal Hostels Ltd. From there followed 20 years working on Aboriginal programs in a range of departments, working on such issues as:
Housing
Law and Justice
Health
Income Support
Tourism
Currently I'm a Senior Policy Officer with the ACT Department of Justice and Community Safety, implementing an Aboriginal Justice Agreement.
On arriving in Canberra in 1986 I also joined a local Tuggeranong Australian Rules Football Club in Canberra and was lucky enough to be a member of the clubs only premiership. I retired from footy two years later.
Since then I have taken on a number of roles at the Club, including Junior Liaison Officer, Coach and eventually becoming the President of the Club. My three sons all play for the Club, with Jay captaining the side for the past three seasons.
Today, I'm still involved with the same Club, now as member of a panel whose role it is to assist junior coaches and players transition to the senior club.
I often bump into a few old navy mates here in Canberra and look forward to the new 'Tingira' days ahead of us in the future to capture some more good old times.