Tingira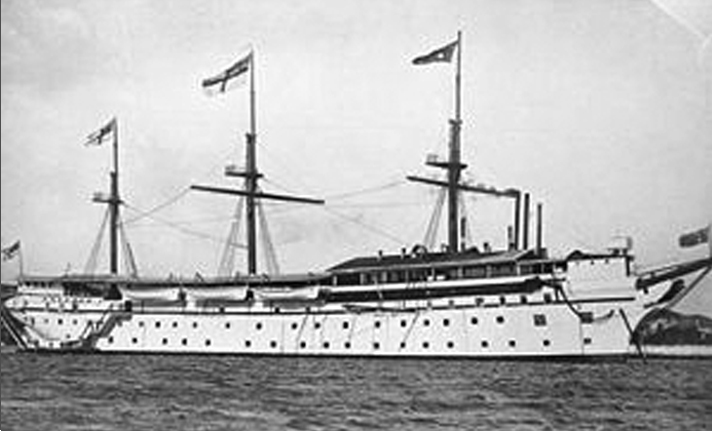 The stage was set for yet another honourable role in the long life of this ship, for at 8 o'clock on the morning of 25th April 1912, just three years before the famous Anzac Day, the white ensign was hoisted to commemorate the commissioning of HMAS Tingira, exSobraon, the first naval training ship in the Royal Australian Navy. Tingira, an aboriginal word meaning 'ocean', or 'open sea', and pronounced Tinguy-rah, was to become the training ship to thousands of young boys who chose the Navy as a career under the Department of the Navy's boy enlistment scheme. Though all those who trained in her went to sea, the Tingira did not – instead she swung at her moorings in beautiful Rose Bay, opposite Lyne Park, for the next 15 years.
The commissioning Captain of HMAS Tingira was Commander Lewin, RN, who, with his first lieutenant, Lieutenant Commander Browne, RN, and Executive Officers Dean and Seaton, were the first of a long line of distinguished men who had been carefully chosen for their special ability of imparting knowledge and instruction to sturdy, self reliant, intelligent boys. Arriving on board Tingira, the boys were immediately assigned an official number which remained with them throughout their naval service. They were then placed in either the 'port' or 'starboard' watch and kitted up in what was termed casual clothing. This was an interim naval kit consisting of: a cap, duck (coarse white material) suit, towel, soap, hammock and blankets. Shoes were only ever worn when undertaking parade or gunnery training or when going ashore for Sunday divine service. A more complete kit-up usually followed a week later.
Boys as young as 14 were trained in Tingira between 1912 and 1926. Boys were placed in classes of about 12 and for the first four months they received comprehensive instruction in seamanship. On completion, they would sit an examination before beginning their gunnery training. This was where discipline reportedly came into its own. Everything was done at 'the double' and failure to carry out correct drill or any order with alacrity was severely dealt with.
A typical day's routine for a Tingira boy saw them turn out at 0530 and 'lash and stow' their hammocks before mustering for baths and showers. After bathing, each boy would receive a cup of cocoa, known as 'ki', before 'turning to' and cleaning ship. Boats would then be turned out and on completion the boys would fall in for physical training. The last boy to fall in would be sent over the ship's rigging half a dozen times which was never a pleasant prospect, particularly with no footwear on a cold, frosty morning.
Boys aloft in Tingira's rigging. Scaling it was a daily event for most boys. After a vigorous half an hour of physical training all of the boys would be ordered over the ships rigging three times before mustering for breakfast. Grace was said before all meals which were overseen by the ship's padre. On completion of breakfast the day's classroom and practical instruction began, continuing until 1600 at which time the boys turned their attention to domestic duties or compulsory organised sport.
At 1900, on completion of supper, the boys were allowed to write letters or participate in voluntary games until 2030 when they were fallen in before being ordered to 'turn in'. Lights out occurred promptly at 2100. The first intake of boys took place between 1st June and 28th June 1912, and at the date of HMAS Tingira's decommissioning, 3,168 young boys had had the privilege of having their initial training, not on a shore establishment, or a stone ship which didn't rock, but in the safe confines of one of the finest ships ever.