Vice Admiral Russell Crane, AO, CSM, RANR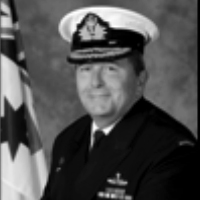 Vice Admiral Russ Crane was appointed Chief of Navy in July 2008. A Junior Recruit, turned Navy Diver, Admiral Crane is committed to fundamental reform of Navy leadership, training and culture through the New Generation Navy initiative.
Admiral Crane was promoted to star rank in March 2000 and posted to the Director General Intelligence Surveillance Reconnaissance and Electronic Warfare before being appointed as the Commander Australian Naval Systems Command in October 2001. He was promoted to Rear Admiral in May 2004 and assumed duties as Director General Coastwatch and, subsequently was appointed as Deputy Chief of Navy in June 2006.
Admiral Crane joined the Royal Australian Navy as a Junior Recruit at HMAS LEEUWIN in 1970. He sub-specialised as a Mine Warfare and Clearance Diving Officer, training in both Australia and the UK before a short period in charge of Clearance Diving Team 2. In 1981 he was posted to HMS VERNON in the UK as a Mine Warfare Instructor on exchange with the Royal Navy.
On promotion to Lieutenant Commander, he assumed command of HMAS CURLEW, a Ton Class minehunter, and later served as the Executive Officer of HMAS TORRENS. In addition to these appointments, he also decommissioned HMAS DERWENT as Commanding Officer and was Commanding Officer of HMAS SUCCESS between 1998 and 2000.
Admiral Crane also served as the inaugural Project Director for the Australian Mine Hunter Coastal Project, Director of the Maritime Intelligence Centre and Chief Staff Officer Command and Control Communications and Intelligence. Admiral Crane is now drawing on his lifetime of Navy experience to spearhead the New Generation Navy initiative. NGN will ensure that Navy people remain inspired and supported to meet Navy's obligations around Australia and abroad.
Awarded the Conspicuous Service Medal in 2000, Admiral Crane was appointed as a Member in the Order of Australia in the Queen's Birthday Awards list in 2007 and elevated to an Officer in the Order in January 2010. Admiral Crane is married to Michelle and has three adult daughters – Nicole, Marni and Tara. He enjoys rugby, fishing and spending time with his two young grandsons.
Ships & Establishments
HMAS LEEUWIN HMAS ALBATROSS HMAS CERBERUS HMAS SYDNEY
HMAS MELBOURNE HMAS HARMAN HMAS STUART
HMAS PENGUIN HMAS CURLEW (CO) HMAS WATERHEN HMS VERNON
HMAS TORRENS (XO) HMAS DERWENT (CO) HMAS SUCCESS (CO)