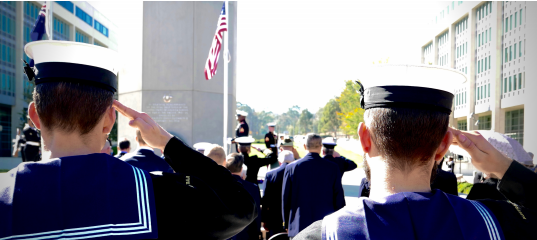 Members of the Tingira Australia Association will pay tribute to their former Tingira shipmates at the Sydney Cenotaph next Sunday morning, 9am, with a formal salute to acknowledge the Centenary of the First World War Armistice and the role played by many of the young Tingira boy sailors.
Leading the Tingira members will be President, Lance Ker, from Queensland and Vice President, Steve Beal, from South Australia. They will lay a special 'Centenary HMAS Tingira lifebuoy wreath' at the footings of the bronze Sailor figure on the Sydney Cenotaph, former Tingira Boy, Leading Seaman, John Varco.
"We have waited four years for this day, it's a day that Australia would have celebrated so much at the time in 1918. Our association is presently researching the history of these Tingira boys during this war effort. Many served in WW1 and WW2, several served in Korea in their final years of the navy' said Tingira President Lance Ker.
John Varco is certainly one of our most decorated Tingira sailors, since WW1 there have been many more decorated Tingira sailors. Our present day Tingira Boys from the 1960-1984 HMAS Leeuwin generations have also served in many RAN front line military encounters and peacekeeping roles over the past decades, with some members still serving as part of todays Royal Australian Navy.
The Sydney Tingira Boys will join in the commemoration activities at ANZAC Memorial, Hyde Park, Sydney at 10am with many other serving and ex service personnel for the remembrance Day occasion.
" I will be looking forward to viewing the new extensions to the Anzac Memorial on show for a first time to the public on Sunday. It's been a long time coming to finally finish this wonderful monument to honour our service personnel here in Sydney' said President Ker.
Many other Tingira Boys will join local Remembrance Day services across Australia this weekend. Tingira members are welcome to join the boys in Sydney, 9am sharp, Martin Place.