As Christmas approaches and our thoughts begin to turn to our celebrations of Christmas and the New Year, it's timely to reflect as well on events of the year past in particular those events that have given us an opportunity to celebrate, commemorate, honour or simply remember those who have made a significant contribution to our Nation.
There have been many opportunities for reflection this year as we brought the centenary of Anzac commemorations to a close on Remembrance Day 2018, the centennial anniversary of the cessation of hostilities in the Great War. Those men of the Great war and those men and women who followed in many conflicts and operations since, fought such that we can live in freedom – We will remember them – Lest We Forget!
I was pleased to be able to attend the National Remembrance Day ceremony at the Australian War Memorial in Canberra and represent our Tingira heritage. The drill, pride and presentation of the Federation Guard and other members of the ADF present on the day was very impressive and reinforces my view that our ADF is in very good hands. I even had the opportunity to meet up with some of my 32nd intake mates also present for the service.
In the relatively short time it has been in place, (8 years) the Tingira Australia Association, has recently become an important connecting component for many in our former JR Community. Decades after that historic day in our lives when we first walked through those gates at HMAS Leeuwin or, in some cases, HMAS Cerberus, we continue to hold close those mateships we developed then and in many cases look to renew today.
I continue to admire the interchange of information, stories (some of which may have some basis in truth), and arrangements for meetings and reunions that I see regularly on the Tingira and JR Facebook sites and in other Navy and veteran publications.
It's clear there is an enormous appetite for mechanisms to acknowledge, recollect and salute our JR heritage and I'm pleased to see the former JR community is developing new ways to interact and maintain those bonds we developed so many years ago.
We are a significant part of our Australian naval history. On April 25th 1912 when the first 'Tingira Boys' walked the gangway of that famous clipper ship, anchored in Rose Bay, Sydney, they initiated a culture and a training methodology which would serve the RAN well into that century. In 2010 after the very successful Golden 50th JR Reunion and the commissioning of the JR Memorial, I was delighted to support the new Tingira Australia Association steering committee of Alan Rodgers, Chris Perrin, Mark Lee and Chris Parr with their many ideas to make the Association work for all of us. Their vision was far reaching and in my view, particularly important as they set about establishing opportunities for former JR's to reconnect.
Eight years later, the three committees to date have done us proud through magnificent maintenance and execution of the plan or, as one of our Principles of War states: 'Selection and Maintenance of the Aim'. I want to congratulate all concerned for their unwavering efforts and persistence in advancing the Association and its aims. It has been a wonderful effort and is greatly appreciated by many.
Many of us are now firmly reunited as a close held brotherhood, a brotherhood that stands ready to assist each other singularly or collectively in difficult times. Of course the achievements to date are no accident, the Executive and others have worked very hard for long hours to get us to this level. We currently enjoy a new member coming on board each week as the Tingira network continues to grow and we round up our former shipmates. Our total membership today is 675 and raising!
As we reflect on the outstanding achievements of the last eight years in advancing our JR legacy, I note that July 2020 offers us yet another opportunity to come together in celebration of the 60th (Diamond) Anniversary of the start of the JRTE at HMAS Leeuwin in 1960.
As many of you already know, Leeuwin Barracks is to be sold in the early part of the 2020s. Pleasingly, I understand there are now solid arrangements in place for the JR Memorial, the rose garden and the flagpole to remain in place in perpetuity after the sale. Leeuwin Barracks as we know it will however go and our National President and his Executive team are working with all parties involved to ensure some of the naval heritage of the area is retained. The year 2020 therefore may be our last opportunity to visit the establishment as we once knew it.
There is a buzz that our National President and his Executive Committee are already onto this potential opportunity for a Diamond Anniversary Reunion in 2020 at Leeuwin, so I guess it is a matter of watch this space. It seems to me that this offers us a unique and final opportunity for the JR community to come together in Leeuwin one last time before the base disappears.
With the close of 2018 rapidly approaching I'd like to publicly thank Lance Ker and his Tingira Australia Association committee for their hard work throughout this year. They have been stalwart volunteers in busy positions – BZ every one of you. Thank you as well to the families who support these men in everything they do. We all know how important that family support is and without it we cannot do what we do. I would also like to thank the nationwide network of LJR's for flying the Tingira flag at our many gatherings in the individual states, Anzac Day and the Tingira parties are growing the membership numbers, well done gentlemen, keep up the great work!
May I take this opportunity for Michelle and I to wish you and your families a very Merry Christmas and a safe and prosperous New Year. During this festive season I would ask us all to reflect on that which is important to us, our loved ones and friends.
Please take a moment to remember also those young and sometimes not so young, men and women who are away from their
own families this Christmas doing what we ask of them in protecting our Nation and her National interest. I am sure you would all join me in wishing them a safe and merry Christmas and a safe return home to their families when their work is done.
Merry Christmas and Happy New Year to all.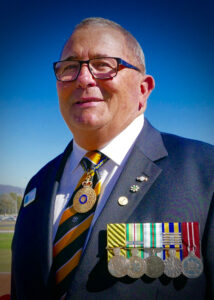 Vice Admiral
Rus Crane AO, CSM RANR
Tingira Australia Assoc. Patron