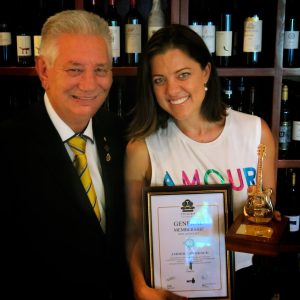 The Queen of Country music, Amber Lawrence, was singing in high key recently when she was awarded an Honorary Associate Membership of the Tingira Australia Association.
Tingira Treasurer, Peter Stephenson OAM, was on hand in Sydney to present Amber with her membership whilst she has a few weeks at her Mascot home enjoying 'family time' .
Amber will be back on her Australian tour early next month after her recent success at the Tamworth Country music awards where she won the top Australian honour with the coveted Golden Guitar.
"I am very honoured to become 'one of the boys' in the Tingira Association.
"I've been singing for the lads over the past few years in Sydney at their private functions.
"Looking forward to their Presidents dinner on April 24 again and their big event in November for JR Reunion at Luna Park in Sydney.
"Yellow Submarine – who would have thought I would be singing that famous Beetles tune to a group of dedicated former sailors of the RAN, they love it and I love them, it's their theme song!
Luke O'Shea who won the male golden guitar award at Tamworth will also perform as a duet with Amber in April at the Presidents dinner.
The Tingira Australia Association AGM will be the first event for the evening followed by a commemorative sunset service on the Tingira Memorial followed by music and a food feast at Club Rose Bay.
The Tingira boys will be on best behaviour that night as they will be in suits, Tingira ties, shinny shoes and berets at 9am the following day in George Street as they embark as part of Australia's most formative events for the century, the Sydney ANZAC Day March to commemorate the Gallipoli 100 year landing.
The 'Tingira Boys' will also march in Perth, Brisbane and Melbourne for a first time this year since the 'Tingira Old Boys' association finished in 1984.
Details for Tingira ANZAC Day, soon to be front page on Tingira Australia Association website www.tingira.org.au