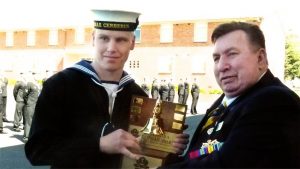 Recruit Bosun's Mate P.E Marks, is the inaugural winner of the 'Tingira Top Shot Award' from the new Yarra division at HMAS Cerberus Recruit School. This new awarded has been established with liaison between Recruit School Commanding Officer, Commander Aaron Nye and Tingira President, Mr. Greg Read SC.
At the recent HMAS Cerberus passing out parade for Yarra Division, reviewed by the Chief of Navy, Vice Admiral Ray Griggs AO CSC RAN, recruit Marks was presented by Greg Read with the now famous insignia of the new Tingira Australia Association, a perpetual 'Tingira Bell' trophy.
This award was for the top shot score on the rifle range, is a vital part of the initial 12 week recruit school training program. Shooting a gun is an activity all new navy recruits undertake during their basic training before their category and sea training duties. Some recruits have never fired a gun until this stage in their life, whilst some farm boys and girls are right at home on the 'rabbit' range!
On completion of the passing out parade, President Greg Read congratulated recruit Marks on his outstanding achievement and pinned him with a 'Black' Tingira membership pin. He becomes our first new Tingira Recruit in the third generation of Tingira Recruits.
In future, all recruits from Yarra Division intake at HMAS Cerberus are eligible to become Tingira Australia Association members. This future membership stream will now insure the longevity of the Tingira Australia Association, we can now continue to live on as out past forebears wished – Tingira will live forever!